Indigo Summer Dyeing Workshop with Joya Rose at Motley Goods Studio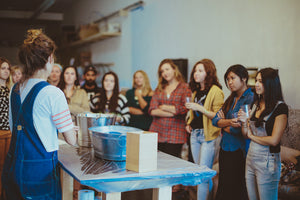 A few weeks ago we had the pleasure of hosting Joya Rose an Indigo dip dyeing event here at the studio.
I made a set of 6 linen napkins for each participant and Joya took us all through the process of preparing the dye and dipping your napkins. 
It was a great time and I wish we could host more events! I also dyed a linen bag, so look for that coming soon. 
Excellent wine was provided by Pali Winery and amazing photos were taken by Monica Semergiu check out her site for more amazing photography.
Thank you so much to everyone who made it out. Check back with our site for more upcoming events!